What My Customers Are Saying
Oval Moissanite Engagement Ring
Google Review
"Leah and I worked together to create and build the most absolutely perfect engagement ring. From idea to design to actual product was flawless, easy, and no detail was looked over. If you're looking for someone to truly they their time with you and meet your expectations I wouldn't go anywhere else. Thank you Leah!!"
- Ryan P.
Engagement & Wedding Ring Set
Google Review
"Leah redesigned my engagement and wedding rings for me by creating new settings for the diamonds I already had. She listened to what I was looking for in a ring and then added in her expertise. My rings are literally a work of art. I've had them for a few months already and still cannot stop looking at them. I get compliments on them every day. I love knowing that my rings are one of a kind, created just for me. Leah was easy to work with and very responsive. I will definitely be getting more pieces from her!!"
- Caitlin H.
Daisy Ring
Google Review
"Absolutely gorgeous jewelry! I picked out the color and stone of my beautiful daisy ring and was able to follow along on the Instagram account to see it be made! I love that! 100% satisfied with Leah Hollrock and her jewelry."
Diamond Trio Bypass Ring
Google Review
"Leah Hollrock Jewelry is amazing. I reached out with some basic ideas of what I was looking for and Leah sketched a variety of design ideas then hand carved this beauty. She was attentive to all my questions, concerns and ideas during the process. She checked in with me every step of the way and in the end she created the perfect piece of art with these three family stones."
- Emily L.
Oval Diamond Engagement Ring Set
Google Review
"Leah is a dream to work with. She is SO talented and really listens to what you are looking for in your jewlery. Leah started off working with my fiance in designing my dream engagement ring, I can't speak to their process but I know he felt she nailed the design (as do I)! I then had the delight to work with Leah on designing my wedding bands. It was truly amazing getting the first round of sketches and then being able to make suggestions on changes to then recieve additional sketches back in a matter of days. Once we had a design nailed down she got right to work and I had my engagement /wedding band set in hand. Everything she does is a work of art and I can't thank her enough. If you are looking for a one of a kind piece of jewlery from a talented artist, look no further. Leah is your girl!"
14K Petal Necklace
Google Review
"I bought a beautiful gold necklace from Leah Hollrock years ago and I have been wearing it every day since! It's perfect for everyday , for going out and getting compliments from strangers. Seriously, you will get complimented by strangers! Leahs quality is the real deal and my necklace still looks brand new and I shower and sleep in this thing. If you are thinking about it, just get it already because you won't regret it!"
- Caitlin H.
"Leah responds very fast and is very communicative. She is also flexible with a can-do attitude, especially in terms of budget.. I sent her images of what I had in mind and she sent me 3 options originally to choose from and she sent me one more with edits that I had requested very promptly afterwards. Turn around time was amazing, with updates the whole way.The ring I had made is better than anything I could have dreamed of. I would wholeheartedly recommend Leah's business to anyone wanting to support a small business, needing a custom piece, or just wanting a unique lovely creation that is bound to get endless compliments. 5 stars 10/10 for sure!"
- Tara A.
"Love this jewelry line! I have purchased numerous pieces from Leah Hollrock Jewelry over the years, all of which are among my favorite daily pieces. I love yellow gold and ornate, vintage-inspired aesthetics and Leah always goes above and beyond to customize based on my preferences. I always have pieces on my wishlist from Leah's collection!"
- Cassidy H.
"Leah did an amazing job on our wedding bands. We gave her an idea of what we wanted and she helped us choose a beautiful and unique design. She was extremely responsive and communicative and expertly crafted a product that far exceeded our expectations. Thank you Leah!"
- Melissa A.
"Leah was beyond helpful. She walked me through pricing, sizing, and more pricing, and she was super patient and understanding the entire time. ... As I opened the package, I could feel the huge grin I had on my face the entire time. And I hadn't even gotten to the rings yet! When I saw the thoughtful handwritten message from Leah and then opened the box with my rings and looked at the inscription, I teared up. It was all just so perfect. From beginning to end, Leah is a truely kind, patient, and efficient professional. I can't wait to do business with her again."
- Susie J.
"I don't have enough good things to say about Leah and her jewelry. She has custom designed and made my wife's engagement ring, and my wife and I's wedding bands. I've also purchased some of her in-stock jewelry pieces.

Leah is friendly, patient, and responsive when working with her on custom pieces. During that process, I was extremely impressed with how she provided regular updates and the sheer amount of work and dedication I felt my pieces received.

From start to finish, working with Leah is an absolute pleasure; her passion for her business and craft is palpable, and her creativity and skill speak for themselves when seeing the final products. I'm beyond happy to wear her work every day."
- Sidney C.
"Right from the start Leah was prompt, informative and very helpful. She made the entire process of designing the perfect ring stress free and she was super accommodating to all ideas and suggestions. Needless to say she has made my fiance one happy gal and we are are so happy Leah will also be making out bands as we know they will be perfect! If you are looking for custom work, Leah is the one to use!"
- Mitch L.
"I purchased an engagement ring from Leah Hollrock jewelry and she was very responsive, professional, and most importantly she listened to what I wanted and collaborated and communicated with me the whole time. I will make sure to refer everyone that I know to her and will also be purchasing again from her for sure!"
- Jeremiah K.
"Delicate but strong enough for daily wear. The craftsmanship is truly impressive."
Julie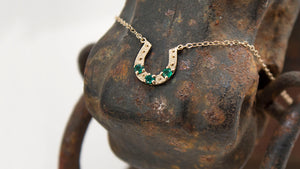 Travel Treasure
"Leah was more than kind. She was celebratory of my ideas and freely provided multiple designs within various price points. The design we settled on fully reflected my personal style and showcased my found travel treasure in a most stunning way. Every detail from length to metal type was carefully considered and every pestering question was answered with patience and enthusiasm.
I've worked with Leah to re-work some of my own family jewelry to make it wearable and resonate for me. What I love is that I now have stunning jewelry of the highest quality that is so dear and unique to me. I love sharing the stories they hold when I receive complements. I appreciated how workable pricing is—buying jewelry you help design for yourself is a huge point of privilege and Leah makes it an empowering experience. I cannot more highly recommend her services and know I will be creating new pieces with her in the future."
- Chelsey R.
Sparrow Ring
"Leah designed and created a custom ring for me with a level of detail that truly went above and beyond. I don't live in Colorado, and I found Leah's work online. I was looking for a goldsmith who carved wax molds by hand and had the artistic strength to create a new, detailed design for a unique piece including a recognizable image of a specific species of bird.
 In my area all the goldsmiths I spoke to or whose websites I perused create their wax molds using a 3d printer, and their designs lacked the hand-crafted feel that I was looking for.
We spoke about the project on the phone, and Leah was happy to do the job remotely and ship the final piece. After determining details over the phone Leah drew a suite of sketches detailing different design ideas.
The final ring came out looking just like the chosen design, is absolutely gorgeous, and I received it when expected (I needed it by a specific date).
Things that really set this exchange on a level above:

• I asked for an image of a specific species of bird on a workspace as small as the face of a ring, and Leah pulled it off!
• Leah has the fine art background to essentially "draw" with the metal
• Leah's interest in Georgian era jewelry led to me choosing a final design where the ring itself had a very unique and striking shape, unlike other rings I have seen!
• The handcrafted nature of the production leads to a truly one-of-a-kind finished piece and has so much more personality than a piece made from a 3d-printed wax mold

• Communication was clear and easy, and Leah provided designs within a discussed price range, giving me lots of options
If you are looking for a custom piece of jewelry I would highly recommend Leah Hollrock Jewelry!"
- Zack M. | Google Review